[Zoho People] Adding User Failure
If you encountered an error in adding user failed - 'User has an unconfirmed account'.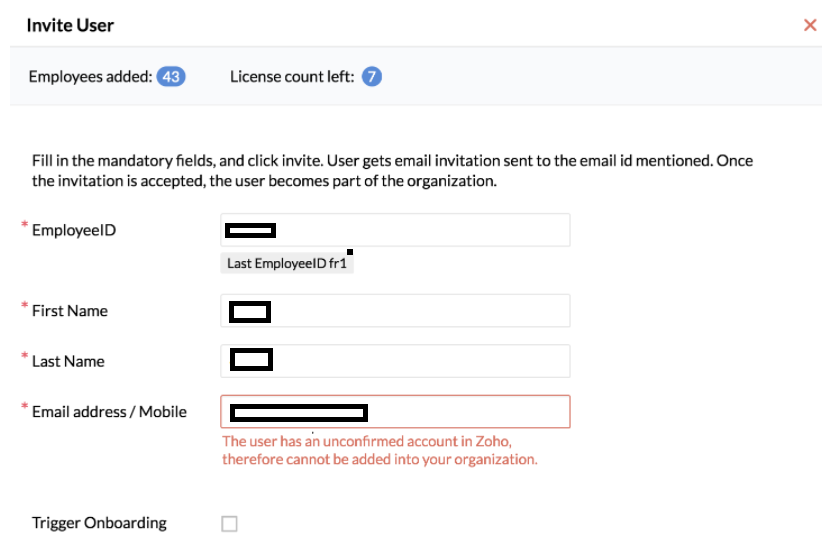 This error is reported when verification is pending from user's side. When a user is invited from Zoho People, the user is expected to login and verify their account within the 7 days link validity period.
Related Articles

[Zoho People] Accepting Invitation as a user in your organization

In Zoho People, you need to be invited by the system admin into your organization before you can proceed to be a user in your particular organization. Once the system admin invites you to the organization, you will receive an email. In the email, it ...

[Zoho People] Multi Org access

In Zoho People, a user can have multiple access to organization. Some users might be confused about which Organization they are accessing. Here is how you can switch your Organisation in Zoho People. In-Browser: Accessing your Organization(s) You can ...

[Zoho People] Delete Organization

Missteps might happen when accepting an invitation to access their respective organization; such as mistakenly creating an entirely different organization. This may happen when the user accepted an expired invitation link, or the user went to the ...

[Zoho People] Adding Domain Failure

If you encountered the error ' The domain you are trying to access is verified and is being used by another organization. ​This error occurs when someone belonging to your organization has added this domain to another organization. Delete the domain ...

[Zoho Recruit] Deleting Zoho Recruit Organization

This is a common problem when you have your own Zoho Recruit organization, and your admin has its own Zoho Recruit organization. When this happens, your admin cannot invite you to join its organization because you already in another one. The ...