[Zoho Recruit] Adding/Editing Field Dependency
To add/edit field dependency in Zoho Recruit, go to Setup > Modules > Hover on the module the parent/child fields are in, choose "Map Dependency Fields"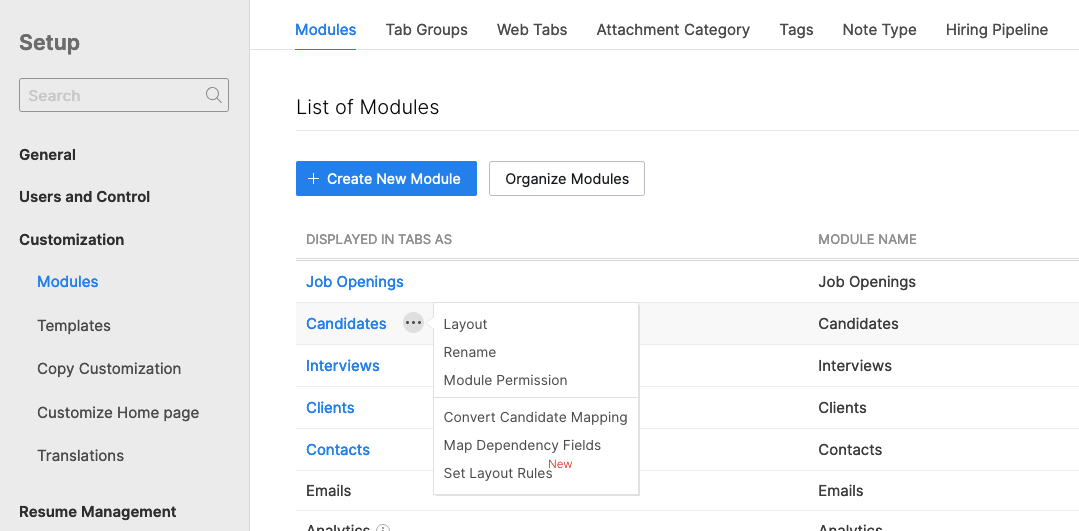 There, you can choose to map what child field values to which parent field value.


Make sure you hold "CTRL" on your keyboard when selecting multiple values or adding a new one as if you don't, the previous mapped values will be overwritten.
Click "Save"



Please note that even if you have the same fields in other modules, the settings here is only applicable to this module only. You will need to do the same thing to other modules as well.
Related Articles

[Zoho Recruit] Mapping Dependency Fields

In Zoho Recruit, it is possible to map dependency fields together. You can set the parent to be dropdown field and the child to be a multiselect field for example. To do so: Go to Setup > Customization > Modules > Hover on the module you require and ...

[Zoho Recruit] Deleting Zoho Recruit Organization

This is a common problem when you have your own Zoho Recruit organization, and your admin has its own Zoho Recruit organization. When this happens, your admin cannot invite you to join its organization because you already in another one. The ...

[Zoho Recruit] Editing Note Type

Add note types Notes provide a space to make a record of information or comments related to a particular record. Note type refers to the classification of the notes based on the particular module or related section. Note: By default, Recruiter and ...

[Zoho Recruit] How To Create Custom "From" Email In Zoho Recruit?

By default, the sender's email address is displayed as the 'From' address. The custom 'From' address feature allows the user to customize the 'From' address in the email template. Sending emails to candidates or clients using a predefined 'From' ...

[Zoho CRM] Adding business days and excluding weekends from formula field

In Zoho CRM, or in any other Zoho apps that have a formula field, it is possible to configure it to return a date value and exclude weekends. For example, if the Opening Date of a Deal is today, I want to make the deadline for addressing it 2 days ...