What is Attendance Regularization?

Attendance Regularization refers to the feature within Zoho People that allows employees to correct their attendance in case of incorrect entries on their arrival or departure time from work.

Regularization can be used within an organization that practices attendance tracking and monitoring the performance and productivity of their employees by keeping track of
their a
rrival time, d
eparture time, l
eaves or absences.
When to use Attendance Regularization?

Regularization is typically used in the following circumstances.

1. Forgot to check-in / check-out
2. Unable to check-in / check-out due to technical issues i.e. no internet access/faulty device etc

3. Accidental check-in / check-out before actual working time period starts/ends.
Which Zoho People Editions have Attendance Regularization?

This feature is automatically enabled when an approval is configured for it and is only available in the following editions of Zoho People
1. Professional

2. Premium

3. Enterprise
How to customize the duration of when the Regularization can be requested and raised?
Go to Attendance > Settings > General Settings > Regularization Settings


The configurations include to Enable or Disable the Regularization for Future Dates, determine how many days from the date to be regularized and how many days a week it can be raised, enable or disable Reason for Regularization and determine whether the entries will create a new check-in/check-out entry or replace existing first check-in/last check-out entry.
Example of how Regularization can be used
Example 1 : Forgot to Check-Out
1. Employee A has been assigned a shift from Monday to Friday, 9am to 6pm.

2. They are expected to check-in before 9am, and to check-out after 6pm.

3. The employee arrives at 8.45am and checks-in.

4. After the shift ended, he did not check-out and he was market absent for the day.

Here is how he his attendance can be regularized.

1. In Zoho People, on the left pane, select Attendance > Click on the Red line that shows Absent >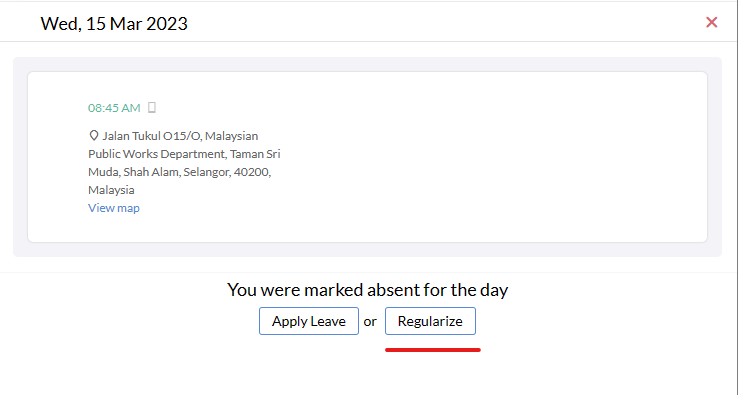 2. Click Regularize > Inside the Add Request > Update the Check-In and Check-Out Date & Time

3. Select the Reason > Update the description > Click on Add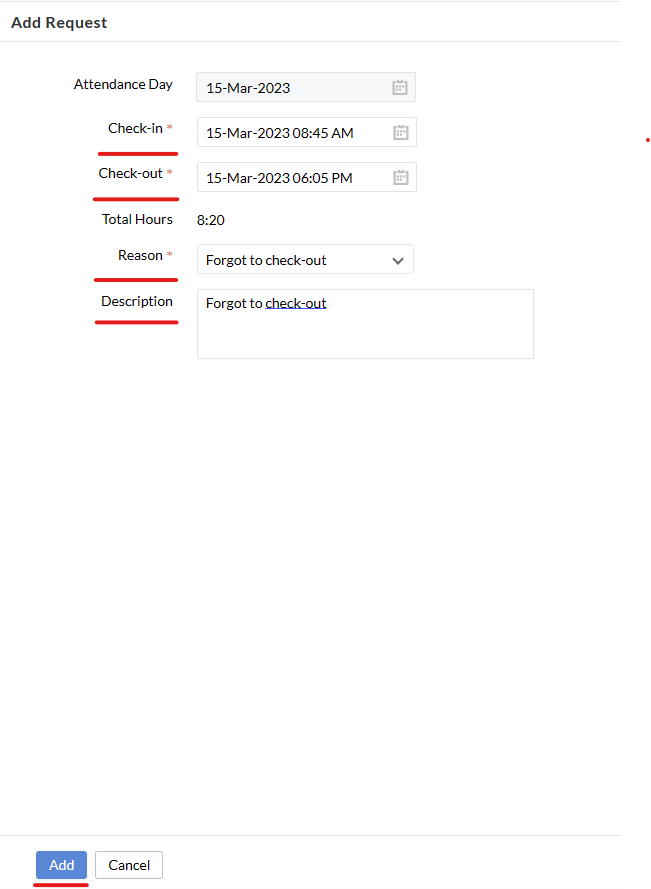 If you do it within the stipulated time, when clicking on Add, you should see the following: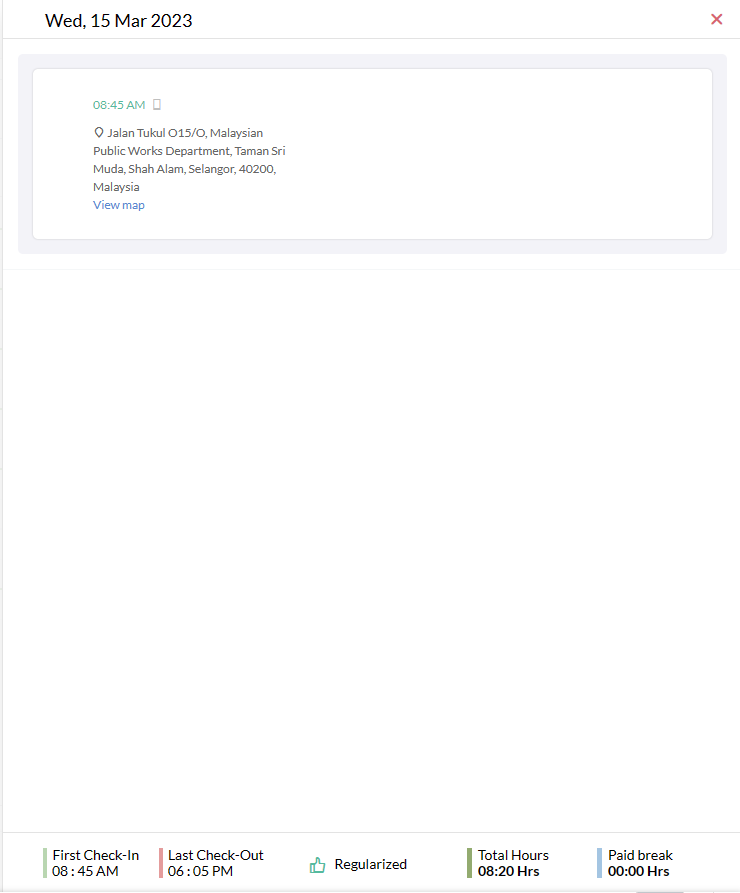 If you did not apply for Regularization within the stipulated amount of days, you will be receiving the following error: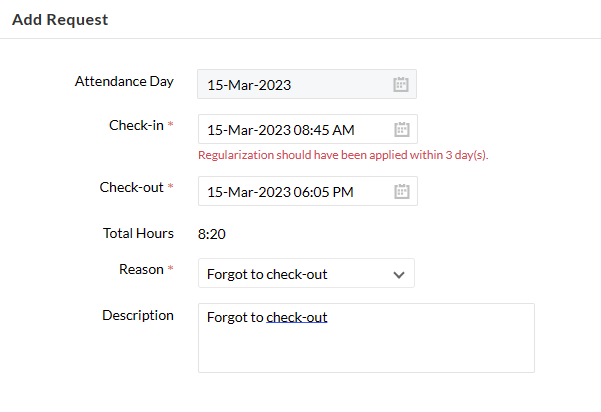 The image below shows the timeline has been Regularized.

Regularization is a feature that helps employees and employers ensure the accuracy of the attendance being recorded.

If you have any questions, don't hesitate to reach us!