[Zoho Desk] Mapping Dependency Field
There are certain fields whose values depend on another field's value. This can be defined as a parent-child relationship. For example, let's say there are two fields - Country and State - in your Tickets module. The values in the State field will depend on the country that you select from the Country field. Similarly, the values for the Sub-Department field will depend on the Department field that you choose. Mapping dependency fields establish this kind of relationship. You can define which values will appear in the Child field when a particular value is chosen in the Parent field. Note that this is applicable only for picklist fields.
Click the

Setup

icon (

) in the top bar.




Click

Layouts and Fields

under the

Customization

menu.

Click

Field Dependencies

under the

Layouts and Fields

sub-menu.

In the

Field Dependencies

page, click

Add New Dependency

in the upper-right corner of the page.

In the

Add New Dependency

page, do the following:



Click
Save Field Dependency
.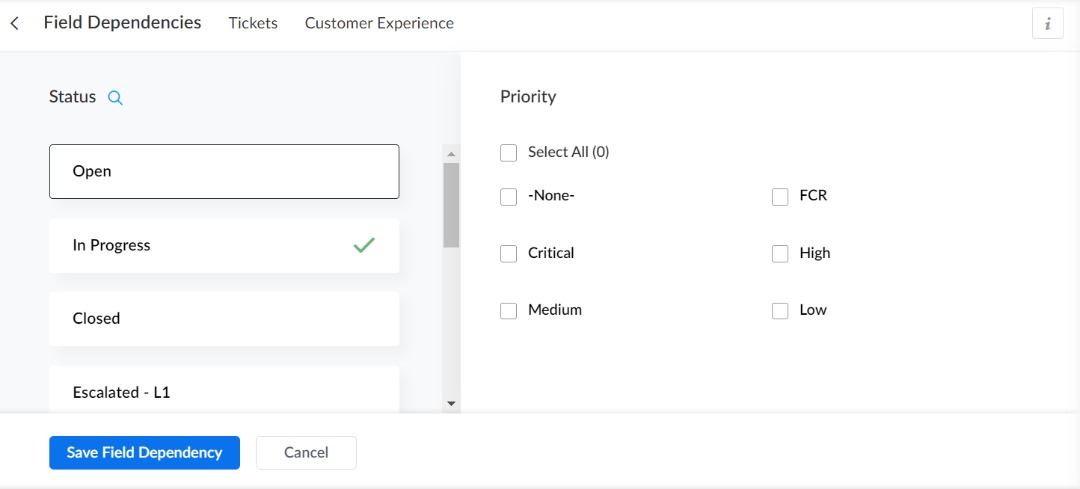 Related Articles

[Zoho Recruit] Adding/Editing Field Dependency

To add/edit field dependency in Zoho Recruit, go to Setup > Modules > Hover on the module the parent/child fields are in, choose "Map Dependency Fields" There, you can choose to map what child field values to which parent field value. Make sure you ...

[Zoho Recruit] Mapping Dependency Fields

In Zoho Recruit, it is possible to map dependency fields together. You can set the parent to be dropdown field and the child to be a multiselect field for example. To do so: Go to Setup > Customization > Modules > Hover on the module you require and ...

[Zoho Desk] How to easily find duplicate Contacts or Accounts

Zoho Desk has the capability to track duplicates in the Customer module. This makes it easy if you would like to do clean-up of your Customers or Accounts and make sure there are no duplicates. Follow these steps on how to do that. 1. Go to the ...

[Zoho Desk] How to Edit Assignment Rules

Assignment rules help you automatically assign the tickets that are received in your Zoho Desk. The rule is based on certain specified conditions that can route tickets to the appropriate department and further assign ownership to it. While this ...

[Zoho Desk] Add a help article when replying to a ticket

Add a help article when replying to a ticket When replying to a ticket in Zoho Desk, you can add existing article from your knowledge base. You can either add the whole article to the reply or add a link to the article. Follow the steps below to do ...