[Zoho Desk] How to Edit Assignment Rules
Assignment rules help you automatically assign the tickets that are received in your Zoho Desk. The rule is based on certain specified conditions that can route tickets to the appropriate department and further assign ownership to it. While this makes sense for new tickets, you can also trigger an assignment rule when tickets are updated in your help desk.
Assignment rules are applicable only for the Tickets module.




Only users with Profile permission for managing Help Desk Automation can access this feature.




You can create a maximum of 5 rules, 15 rules, and 30 rules per organization in the Standard, Professional, and Enterprise editions, respectively.

Each rule can be associated with a maximum of 5 targets and can associate up to 25 different criteria



The client can edit the assignment rule as follow:
Click the

Setup

icon

(

)

in the top bar.




In the

Setup Landing

page, click

Assignment Rules

under

Automation

.


Click Direct assignment under Assignment Rules



And by clicking an existing rule, you will be able to see the below layout after closely following mentioned steps


You may edit the Rule Name and Description of the rule.

You can s

pecify the

Execution Criteria

for the rule by

choosing either "Ticket Update" or "

Ticket Create

" or both.

In the "Ticket coming to", specify the target of tickets to which this rule will apply to. For example, If you choose "Customer Experience" department in this field, the rule will only apply to the tickets created in this particular department only.





You may then proceed to enter the required criteria as shown below



Then, choose where you want to move the tickets to and specify a particular agent in that department if you want to.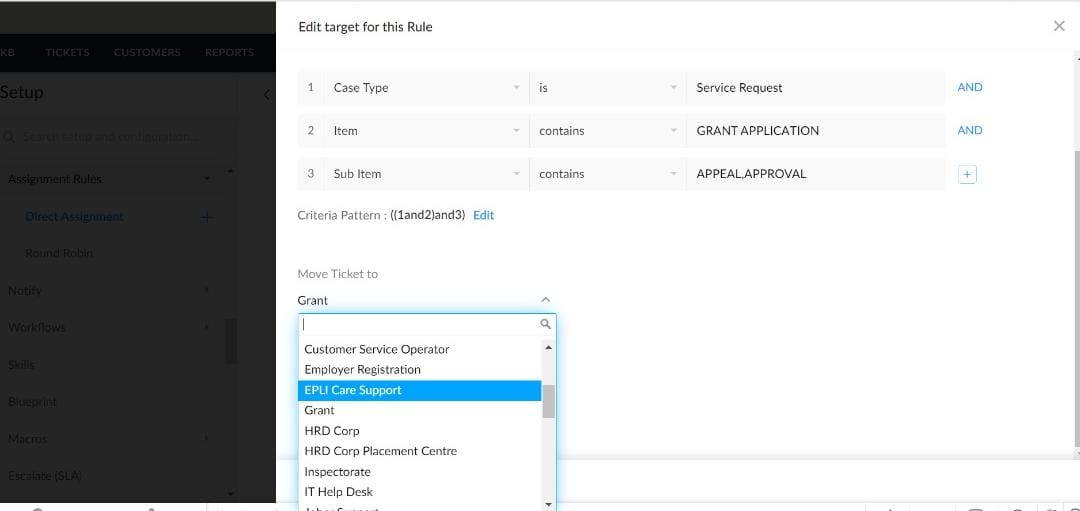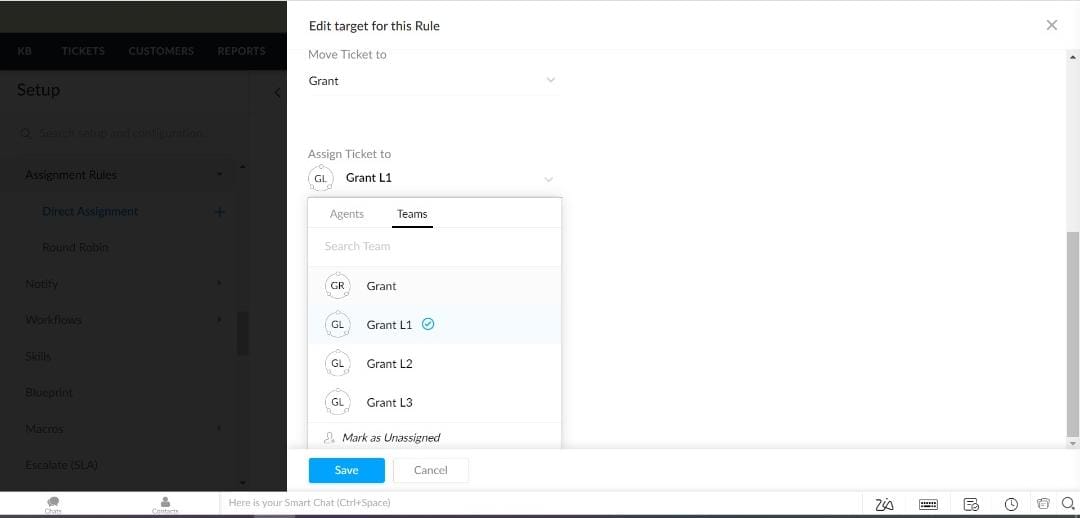 After you follow all of the steps explained above. you may click "Save".
Related Articles

[Zoho Desk] How to easily find duplicate Contacts or Accounts

Zoho Desk has the capability to track duplicates in the Customer module. This makes it easy if you would like to do clean-up of your Customers or Accounts and make sure there are no duplicates. Follow these steps on how to do that. 1. Go to the ...

[Zoho Desk] Mapping Dependency Field

There are certain fields whose values depend on another field's value. This can be defined as a parent-child relationship. For example, let's say there are two fields - Country and State - in your Tickets module. The values in the State field will ...

[Zoho Meeting] Unable To Edit Meeting

If you encountered an error "Unable to process your request! " when trying to edit the meeting, most probably the user ID is not admin. You need to configure the settings in Zoho Meeting to make the user an admin.

[Zoho Recruit] Deleting Zoho Recruit Organization

This is a common problem when you have your own Zoho Recruit organization, and your admin has its own Zoho Recruit organization. When this happens, your admin cannot invite you to join its organization because you already in another one. The ...

[Zoho People] Accepting Invitation as a user in your organization

In Zoho People, you need to be invited by the system admin into your organization before you can proceed to be a user in your particular organization. Once the system admin invites you to the organization, you will receive an email. In the email, it ...